this is the thai style vegetable curry that i made tonight :D mmm yum. it was delicious!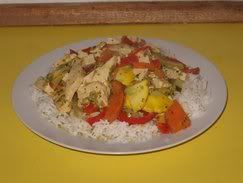 i used the ingredients and general instructions from
this recipe
to make the curry paste. but i did a few variations of the recipe so i could use my own choice of veggies:
- 3 squash
- 1/2 a sweet potato
- 1 red capsicum
- 1/2 cup broccoli stems
(all sliced thinly).
the curry paste ingredients in that recipe worked really really well :)